Holiday begins when your foot dangling in the creek and the heart hovering in the sky!
Summer holiday in Mauterndorf and in the holiday-region "Lungau"
A summer holiday in Mauterndorf is very varied. The Lungau belongs to the sunniest areas in Austria. You can spend a relaxing holiday or an active holiday there - our area gives you a big offer for your leisure time - relax and enjoy, perceive and admire the nature in the variety oft he seasons.
A small but intensive luck are our mountains…
Idyllic side-valleys, many quiet walking ways, clear and blue lakes in the mountains, rushing waterfalls - this is the "Lungau". If you try hard mountain attacks or only cosy walking tours - we can inform you about your ideal tour for your personal condition.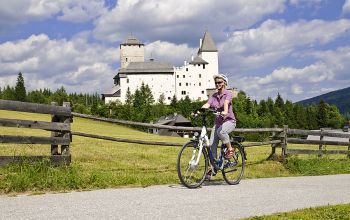 Movement is our nature…
You can spend your holiday in the holiday-region "Lungau" not only for walking, we are also the largest region in Austria for E-Bikes. In our house (Gästehaus Trattner) our guests can also go for a bike - tour with our new electric - bikes. It does not cost anything! There are more than 40 loading-stations for E-bikes at restaurants or at huts in the valleys and mountains. Mountain bikers or cyclers find more than 500 kilometres biking ways in all kinds of difficulties.
Culture and customs in Mauterndorf…
There is also a gliding-place in Mauterndorf. It is a special adventure to glide high over the mountains of the "Alps" with your glider. It is also very interesting to visit the castles in "Mauterndorf" or "Moosham". In the outdoor-park "Katschberg" you find many possibilities for climbing. There are also many concerts in churches and in the castles or bis custom events, like the "Samsonumzug" in Mauterndorf - we can offer you many possibilities to spend your freetime. You are welcome in our area!